The CIVAM Hauts-de-France is an association of rural and agricultural development, created in the 70s. Today, the CIVAM has its headquarters in Mons en Pévèle and works, alongside its members, throughout the region.
Missions of the CIVAM :
– To develop and promote the professions of producer-processor-seller
– To build with the consumer the agriculture of tomorrow
– To promote the development of sustainable agriculture
The objective of the association is to concretely help farmers and professional craftsmen (but also project leaders!) in the development of their business through 2 axes of work
⎝Marketing: organization of events to promote local know-how and products (farm open houses, farmers' markets…) and training (sales techniques, administration, regulations)
⎝Sustainable production and processing: through trainings suggested by the members of the different sectors
Farmers, artisans, general public
How will your project contribute to promoting the gastronomy of the Hauts-de-France region?
The CIVAM project participates in eating better in the Hauts-de-France by :
– encouraging meetings and exchanges between producers and consumers through the organization of open houses at the farm, and farmers' markets
– promoting local products and know-how (communication)
– training farmers and craftsmen: technical training, sustainable practices …
– promoting peasant agriculture and sustainable development
– networking professionals for cooperation and synergies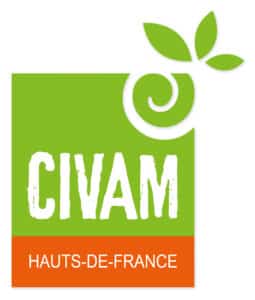 The CIVAMs (Centres d'initiatives pour valoriser l'agriculture et le milieu rural) are groups of farmers and rural people who work collectively on the agroecological transition. They constitute a national network of nearly 130 associations that have been working for 60 years for a living countryside. The CIVAM vision of agricultural and rural development is based on the know-how, experiences and energies of farmers and local residents.