Various educational tools have been designed by the Promotion Committee to help children discover regional products and gastronomy.
A giant poster to allow children to visualize our agricultural and gastronomic region by sector:

seafood, meat and charcuterie, fruit and vegetables, fruit juices, dairy products and finally sweet delicacies … in the presence of Alice and Theo.
The Hauts-de-France Industry Game, an educational card game

to help schools in the region discover a new facet of agriculture from upstream to downstream. It was designed in collaboration with an academic inspector and teachers to validate both the content and the educational approach.
The goal? To make the students (re)discover the notion of a chain of events with Alice and Theo. The children have to reconstruct the different stages of the chains in a collaborative way according to a chronological order.
A paper version of the game of geese in small format as well as a giant, life-size version.

To amuse children while encouraging them to discover seasonal and regional products, a paper version of the game can be downloaded from our website www.leshautsdelices.fr or distributed during the school contest. The life-size version is available for rent to communities, town halls… to animate local festivals.
A 16-page booklet of games and recipes. Welcome to the land of gastronomy with Alice and Theo! Throughout these pages, children are invited to have fun and discover products from our region. Some recipes to cook with the help of an adult are also presented.
Children from 5 to 12 years old.
How will your project help promote the gastronomy of the Hauts-de-France region?
We allow children (primary school level) to discover regional products and gastronomy in a fun way. A playful way to inform and sensitize the youngest to our gastronomic heritage.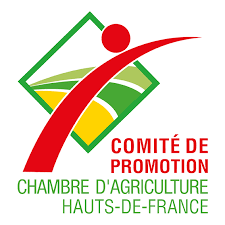 By the Hauts-de-France Promotion Committee
Lison
The aim of this project is to organise an unusual monthly dinner at a local restaurant.
Chloe
A short-distance supply solution for food professionals in the Lille area.
Lison
A BOIRE ET À MANGER or how cinema has dealt with the issue of gastronomy in recent years... From the